Who is Smitty?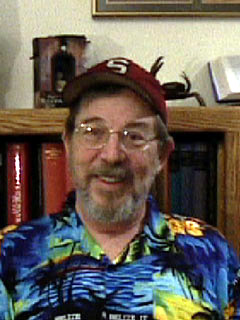 Smitty is the nickname of a 67-year-old geezer whose real name is Gaylord Ewing Smith. He is a retired teacher, now for the second time. The first time he retired was in 1999. Two years later he was driven back to work because he kept believing that the stock market could go no lower. [Ha, ha!] That ended a second childhood of sorts as a student at Hartnell College in Salinas, California. Smitty went to work again as the Bilingual Coordinator for a school district and pretty much hated his job as it became more and more political. It was like teacher as beaurocrat! So now he is again retired and studying at Hartnell College.
Smitty was raised in New Mexico during the pre-Columbian Era and graduated from the University of New Mexico with a B.A. degree in Spanish. During a two-year stint at the University of Texas at Austin, he participated in the civil rights demonstrations of the early sixties and along the way managed to get an M.A.
He got a teaching job at the University of Puerto Rico at Río Piedras but fled after a year because he feared becoming trapped in paradise. His puritan ethic required him to return to graduate school. He moved to California just in time for the Flower Child Revolution.
The Summer of Love, Smitty's own Acid Tests, and organizing and protesting the War in Vietnam proved incompatible with graduate studies. After four years at Stanford University, Smitty failed to get a PhD. A broken man, he had to go to work!
Since he was unable to do anything, he became a teacher and spent many years teaching others how not to do anything, mostly in the Menlo Park/Palo Alto area. After 20-odd years of living on the campus of the private school he taught at, he decided he had to leave the Bay Area and look for greener pastures. Eventually, he landed a teaching job in Salinas. At last he was able to afford to buy a house in scenic Prunedale, California, his present residence. [More interesting than this mundane life is Smitty's fictional autobiography: Hero to His People.]
---