The Biography of Judy Chicago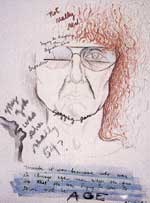 Judy Chicago was born in 1939 in Chicago to a Jewish family (her original name was Judy Cohen). She studied art at the University of California in Los Angeles. There she met her first husband, Jerry Gerowitz, whom she married in 1961. Their relationship was a stormy one; he died in an automobile accident two years later. In graduate school at UCLA she began to develop distinctly female imagery in her painting. Because one of her painting instructors deplored her "breasts and wombs" imagery, she began to move into sculpture. Trying to prove herself in the macho pop art world of Los Angeles in the early 1960s, she went to auto body school, boat-building school, and was an apprentice to a pyrotechnician. Many of her early works were metal and fiberglass sculptures as well as fireworks installations and displays. In 1965 she married sculptor Lloyd Hamrol. Regardless, throughout this period she continued developing explicit sexual and feminist imagery.
Judy then began to teach at the California Institute for the Arts. During this period she was a leader of the Feminist Art Program which produced the 1972 installation known as "Womanhouse" to which she made images such as Menstration Bathroom and wrote a performance piece: Cock and Cunt Play. Throughout her career she will be involved in exhibitions with a theme, often a decidedly feminist theme. She was determined to bring female themes and images to the art world which has always been dominated my male artists and male art historians. It was during the early 1970s that she produced a series of flower paintings, perhaps inspired by Georgia O'Keefe, known as "Through the Flower" and symbolizing the female sexual organ.
Other of her projects include "The Dinner Party" (1979), "The Birth Project," (1984), etc. Typically in the exhibits she collaborates with other women, some of whom adapt Judy's designs to traditionally feminine crafts as quilting, ceramic plate painting, embroidery, needlepoint, crochet, etc., as well as painting, drawing, printmaking and photography. Not only has she investigated feminity, but also the relationship between masculinity and violence, in "Powerplay" (1980s). Another series is "The Holocaust Project" (1993). Presently, she lives and works in Belen, New Mexico.
External Links
Judy Chicago.com
The Life and Work of Judy Chicago
Trials and Tributes: A Judy Chicago Retrospective
The Dinner Party
---
This page maintained and © 2001 by Gaylord E. Smith Smitty's Visual Arts Page